Canon 1300D DSLR Camera With Sigma 70 – 300 mm F4-5.6 DG Macro for Canon Digital SLR Lens(Black)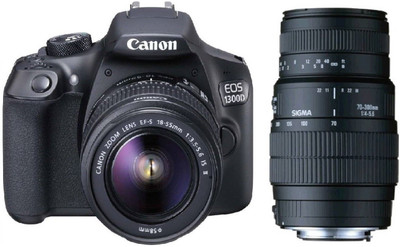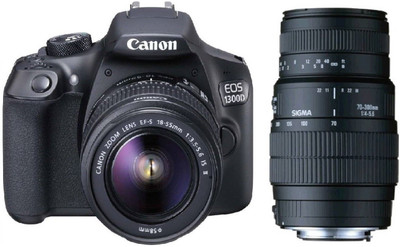 Canon 1300D DSLR Camera With Sigma 70 – 300 mm F4-5.6 DG Macro for Canon Digital SLR Lens(Black)
Description
Canon 1300D DSLR Camera
Canon 1300D DSLR Camera specification:
In the Box
EF-S18-55mm f/3.5-5.6 IS II EOS 1300D Body , Eyecup Ef, Body Cap Battery Charger LC-E10E Battery Pack LP-E10 Interface Cable Wide Strap EW-400D, Sigma 70 300 Lens
General
Brand
Canon
Model Number
1300D
Model Name
EOS 1300D EF S18-55 IS II
SLR Variant
With Sigma 70 - 300 mm F4-5.6 DG Macro for Canon Digital SLR Lens
Brand Color
Black
Type
DSLR
Color
Black
Effective Pixels
18 MP
Shooting Modes
Basic Zone Modes: Scene Intelligent Auto, Flash Off, Creative Auto, Portrait, Landscape, Close-up, Sports, Food, Night Portrait, Creative Zone Modes: Program AE, Shutter Priority AE, Aperture Priority AE, Manual exposure
Tripod Socket
Yes
Wifi
Yes
Face Detection
Yes
Temperature
0°C - 40°C
Ports
Type C, Mini HDMI
Sensor Features
Sensor Type
CMOS
Image Sensor Size
23.2 x 15.4 mm
ISO Rating
ISO 100 - 6400 (Auto / Manual), ISO Expansion to H (Equivalent to ISO 12800)
Lens Features
Optical Zoom
H300 CAMERA WITH 35X
Lens Mount
Canon EF Mount
Dust Reduction
Yes
Manual Focus
Yes
Other Lens Features
Compatible Lenses: Canon EF Lenses (Including EF-S Lenses)
Viewfinder Features
View Finder
Yes
View Finder Type
Eye-level Pentamirror
Viewfinder Coverage
Vertical / Horizontal 95% (With Eye Point 21 mm)
Viewfinder Magnification
0.8x (-1 m-1 with 50 mm Lens at Infinity)
Viewpoint Dioptric Adjustment
-2.5 to +0.5 m-1 (dpt)
Viewfinder Eye Point
21 mm
Other Viewfinder Features
Viewfinder Mirror: Quick Return Type, Depth of Field Preview: Enabled with Custom Function Setting, Type: TTL Secondary Image Registration, Phase Difference Detection, Viewfinder Eye Point: 21 mm (From Eyepiece Lens Center at -1 m-1)
Focus Features
Focus Mode
Contrast Detection (FlexiZone Single, Face Detection Live Mode), Phase Difference Detection (Quick Mode) Manual Focus (5x / 10x Magnification Possible), AF Operation: One Shot AF, AI Servo AF, AI Focus AF
Focus Range
Focusing Brightness Range (EV 0 - 18 (Center AF Point), EV 1 - 18 (other AF Points) with One-shot AF at Room Temperature, ISO 100), Brightness Metering Range: EV 1 - 20 (at Room Temperature, ISO 100)
Metering Modes
63 Zone TTL Full-aperture Metering, Evaluative Metering (Linked to All AF Points), Partial Metering (10% of Viewfinder at Center), Center Weighted Average Metering
Auto Focus
Yes
Focus Points
9 Point (Cross-type AF Sensitive to f/5.6 with Center AF Point)
White Balancing
Auto (Ambience Priority), Auto (White Priority), Preset (Daylight, Shade, Cloudy, Tungsten Light, White Fluorescent Light, Flash), Custom, White Balance Correction and White Balance Bracketing Provided
Other Focus Features
Type: TTL Secondary Image Registration, Phase Difference Detection, Focusing Brightness Range (For Viewfinder Shooting): EV 0 - 18 (Center AF Point), EV 1 - 18 (Other AF Points), (With One-Shot AF at Room Temperature, ISO 100), AF Assist Beam: Small Series of Flashes Fired by Built-in Flash, Focusing Brightness Range (For Live View Shooting): EV 1 - 18 (At Room Temperature, ISO 100), Focusing Brightness Range (For Movie Shooting): EV 1 - 18 (At Room Temperature, ISO 100)
Exposure Features
AE Lock/Exposure Lock
Yes
Exposure Compensation
Manual: 1/3 or 1/2 Stop Increments in +/- 5 Stops, AEB: 1/3 or 1/2 Stop Increments in +/- 2 Stops (Can be Combined with Manual Exposure Compensation)
Manual Exposure
Yes
Other Exposure Features
ISO Speed (Recommended Exposure Index): (Basic Zone Modes: ISO 100 - 3200 Set Automatically (Portrait: ISO 100))
Shutter Features
Shutter Speed
1/4000 sec
Self-timer
Yes
Image Stablizer
Yes
Continuous Shots
3 Shots/sec
Shutter Type
Electronically-controlled, Focal-plane Shutter
Flash Features
Built-in Flash
Yes
External Flash
Yes
Flash Modes
Auto
Flash Compensation
1/3 or 1/2 Stop Increments in +/- 2 Stops
Other Flash Features
Built-in Flash: Retractable, Auto Pop-up Flash, Guide Number: 9.2 / 30.2 (ISO 100, in meters / feet) or 13 / 42.7 (ISO 200, in meters / feet), Flash Coverage: 17 mm Lens Angle of View, Recharge Time: 2 sec, FE Lock, External Flash: EX-series Speedlite
Image Features
Image Format
JPEG, RAW (14 bit Canon Original), RAW + JPEG Large Simultaneous Recording Possible
Live View Shooting
Yes
Video Features
Video Resolution
5184 x 3456
Video Quality
UHD, Full HD
Video Format
Design Rule for Camera File System (DCF) 2.0, MOV, MPEG-4 AVC / H.264, Variable (Average) Bit Rate
Audio Features
Microphone
Yes
Speaker
Built-in Speaker
Other Audio Features
Noise Reduction: Applicable to Long Exposures and High ISO Speed Shots
Display Features
Display Size
3
Touch Screen
No
Other Display Features
Feature Guide: Displayable, Image Display Format: Basic Info, Basic Info + Image Quality / Playback Number, Shooting Info Display, Histogram, Index Display (4/9), Slide Show: All Images, By Date, By Folder, By Movies, By Stills, By Rating Five Transition Effects Selectable, Image Rotation, Ratings Provided, Image Protect, 2 Types Grid Display
Storage Features
Compatible Card
SD Card
Other Storage Features
Eye-fi Card Compatible
Power Features
Power Requirement
Rated Voltage: 7.4 V DC, Battery Capacity: 860 mAh
Battery Type
Lithium Battery
Dimensions
Width
101.3
Height
129
Depth
77.6
Weight
485
Warranty
Warranty Summary
Product is covered under one-year standard warranty and one-year additional warranty from the date of Product purchased by the customer. Warranty validation / Warranty period confirmation would be done through either Online Warranty Serial No. Tracking system (Service Edge) or Warranty Card and Customer Invoice date.
Service Type
Carry in
Covered in Warranty
Warranty of the product is limited to only manufacturing defect on camera body & lens.
Not Covered in Warranty
Warranty does not cover any external accessories (such as battery, cable, carrying bag), damage caused to the product due to improper installation by customer.
Canon 1300D DSLR Camera Latest Price and Price Tracker:
Canon 1300D DSLR Camera With Sigma 70 - 300 mm F4-5.6 DG Macro for Canon Digital SLR Lens(Black), Canon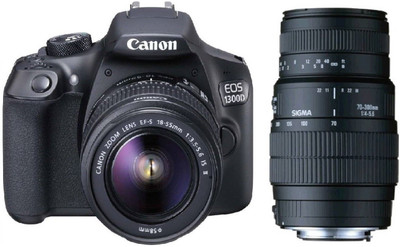 Price History
Canon 1300D DSLR Camera With Sigma 70 – 300 mm F4-5.6 DG Macro for Canon Digital SLR Lens(Black) Prices
Additional information
Specification:
Canon 1300D DSLR Camera With Sigma 70 – 300 mm F4-5.6 DG Macro for Canon Digital SLR Lens(Black)
| | |
| --- | --- |
| Brand | |
| Model Number | 1300D |
| Model Name | EOS 1300D EF S18-55 IS II |
| SLR Variant | With Sigma 70 – 300 mm F4-5.6 DG Macro for Canon Digital SLR Lens |
| Brand Color | Black |
| Type | DSLR |
| Color | Black |
| Effective Pixels (MP) | 18 |
| Tripod Socket | Yes |
| Wifi | Yes |
| Face Detection | Yes |
| Temperature | 0°C – 40°C |
| Ports | Type C, Mini HDMI |
| Sensor Type | CMOS |
| Image Sensor Size | 23.2 x 15.4 mm |
| ISO Rating | ISO 100 – 6400 (Auto, Manual), ISO Expansion to H (Equivalent to ISO 12800) |
| Optical Zoom | H300 CAMERA WITH 35X |
| Lens Mount | Canon EF Mount |
| Dust Reduction | Yes |
| Manual Focus | Yes |
| Other Lens Features | Compatible Lenses: Canon EF Lenses (Including EF-S Lenses) |
| View Finder | Yes |
| View Finder Type | Eye-level Pentamirror |
| Viewfinder Coverage | Vertical, Horizontal 95% (With Eye Point 21 mm) |
| Viewfinder Magnification | 0.8x (-1 m-1 with 50 mm Lens at Infinity) |
| Viewpoint Dioptric Adjustment | -2.5 to +0.5 m-1 (dpt) |
| Viewfinder Eye Point (mm) | 21 |
| Focus Range | Focusing Brightness Range (EV 0 – 18 (Center AF Point), EV 1 – 18 (other AF Points) with One-shot AF at Room Temperature, ISO 100), Brightness Metering Range: EV 1 – 20 (at Room Temperature, ISO 100) |
| Metering Modes | 63 Zone TTL Full-aperture Metering, Evaluative Metering (Linked to All AF Points), Partial Metering (10% of Viewfinder at Center), Center Weighted Average Metering |
| Auto Focus | Yes |
| Focus Points | 9 Point (Cross-type AF Sensitive to f/5.6 with Center AF Point) |
| AE Lock/Exposure Lock | Yes |
| Exposure Compensation | Manual: 1/3 or 1/2 Stop Increments in +/- 5 Stops, AEB: 1/3 or 1/2 Stop Increments in +/- 2 Stops (Can be Combined with Manual Exposure Compensation) |
| Manual Exposure | Yes |
| Other Exposure Features | ISO Speed (Recommended Exposure Index): (Basic Zone Modes: ISO 100 – 3200 Set Automatically (Portrait: ISO 100)) |
| Shutter Speed | 1/4000 sec |
| Self-timer | Yes |
| Image Stablizer | Yes |
| Continuous Shots | 3 Shots/sec |
| Shutter Type | Electronically-controlled, Focal-plane Shutter |
| Built-in Flash | Yes |
| External Flash | Yes |
| Flash Modes | Auto |
| Flash Compensation | 1/3 or 1/2 Stop Increments in +/- 2 Stops |
| Image Format | JPEG, RAW (14 bit Canon Original), RAW + JPEG Large Simultaneous Recording Possible |
| Live View Shooting | Yes |
| Video Resolution | 5184 x 3456 |
| Video Quality | Full HD, UHD |
| Video Format | Design Rule for Camera File System (DCF) 2.0, MOV, MPEG-4 AVC, H.264, Variable (Average) Bit Rate |
| Microphone | Yes |
| Speaker | Built-in Speaker |
| Other Audio Features | Noise Reduction: Applicable to Long Exposures and High ISO Speed Shots |
| Display Size | 3 |
| Touch Screen | No |
| Compatible Card | SD Card |
| Other Storage Features | Eye-fi Card Compatible |
| Power Requirement | Rated Voltage: 7.4 V DC, Battery Capacity: 860 mAh |
| Battery Type | Lithium Battery |
| Width | 101.3 |
| Height | 129 |
| Depth | 77.6 |
| Weight | 485 |
| Service Type | Carry in |
| Covered in Warranty | Warranty of the product is limited to only manufacturing defect on camera body & lens. |
| Not Covered in Warranty | Warranty does not cover any external accessories (such as battery, cable, carrying bag), damage caused to the product due to improper installation by customer. |